PLM ERP MES - MES flirts with PLM - the ERP-MES dual relationship is coming to an end!
The automation pyramid needs to be redrawn. Why is that?
There are a number of reasons here.
What are the key aspects?
A key aspect is the realization that all master data has a lifecycle. Until now, this was not visible for many object and data types because the lifecycle effect was hardly noticeable at low change frequency.
This is currently changing due to
the dynamics of technology and market development,
the need for new data-based business models also during the use of the product, which require a complete and continuous technological product description as a basis
the increasingly unstable market environment
the need to establish resilient and at the same time highly dynamic production networks
the increasingly short-cycle changing networks of interconnected and again separated legal and physical business units
Why MES and ERP only fit together to a limited extent
In the future, therefore, a lifecycle management system will be required for nearly all Master data form. ERP systems need the master data for their primary task, the processing of value and quantity flows. ERP systems are not designed for the lifecycle management of this master data. PLM has filled this gap. Product data has always been subject to a high frequency of change. This is why the topic of lifecycle management first became visible there.
According to the above argumentation, LM (without the P for product) will emerge from PLM in the future. The master data should therefore be supplied from the lifecycle management systems to the downstream systems MES and ERP.
Now it could be argued that the current master data is in the ERP and therefore a supply ERP-MES is possible as before.
This is where the second aspect comes into play. The master data objects (e.g., work center, work operation, etc.) and their aggregation are granulated in the ERP from a commercial perspective. This does not sufficiently coincide with the technological view required in the MES.
One of the main reasons why fine control in ERP has failed. So if ERP is no longer the SingelSourceofTruth and cannot provide the necessary granularity of information for MES, it will all come down to a three-way relationship between PLM-MES-ERP. The production orders will continue to be transferred from ERP to MES.
Impact on the automation pyramid and the interaction of PLM-MES-ERP
How does this affect the Automation pyramid off?
The automation pyramid in the earlier view is a concept that the hierarchy of automation systems for production. It assumes that one should proceed from top to bottom when automating processes. At the top of the pyramid is classically the Enterprise Resource Planning ERP, below that the Manufacturing Execution System (MES) level, followed by the machine and equipment related automation or control level.
MES (Manufacturing Execution System) plays an important role in process automation. They are an important building block for the implementation of Industry 4.0 in production and help to increase efficiency and flexibility in it. MES enables real-time control and monitoring of production processes and collects data needed for monitoring, analysis and optimization of processes.
The role of MES has changed in recent years. There is a close connection between MES and PLM (Product Lifecycle Management). This is because production requirements have evolved towards personalized, customizable and sustainable production. Since all master data has a lifecycle requires tighter integration of data and processes throughout the lifecycle of a product, from design to manufacturing and maintenance. MES plays a key role here, linking data from PLM to actual processes on the shop floor, enabling process monitoring and optimization.
Therefore, the automation pyramid needs to be redrawn to reflect the closer link between MES and PLM and to highlight the importance of MES as a bridge between product development and manufacturing. The two-way relationship between ERP (enterprise resource planning) and MES is also coming to an end, as ERP systems are often no longer sufficient to meet today's manufacturing needs. Instead, an integrative view is emerging where ERP, MES and PLM are viewed as part of a larger system that integrates data and processes across the entire lifecycle of a product.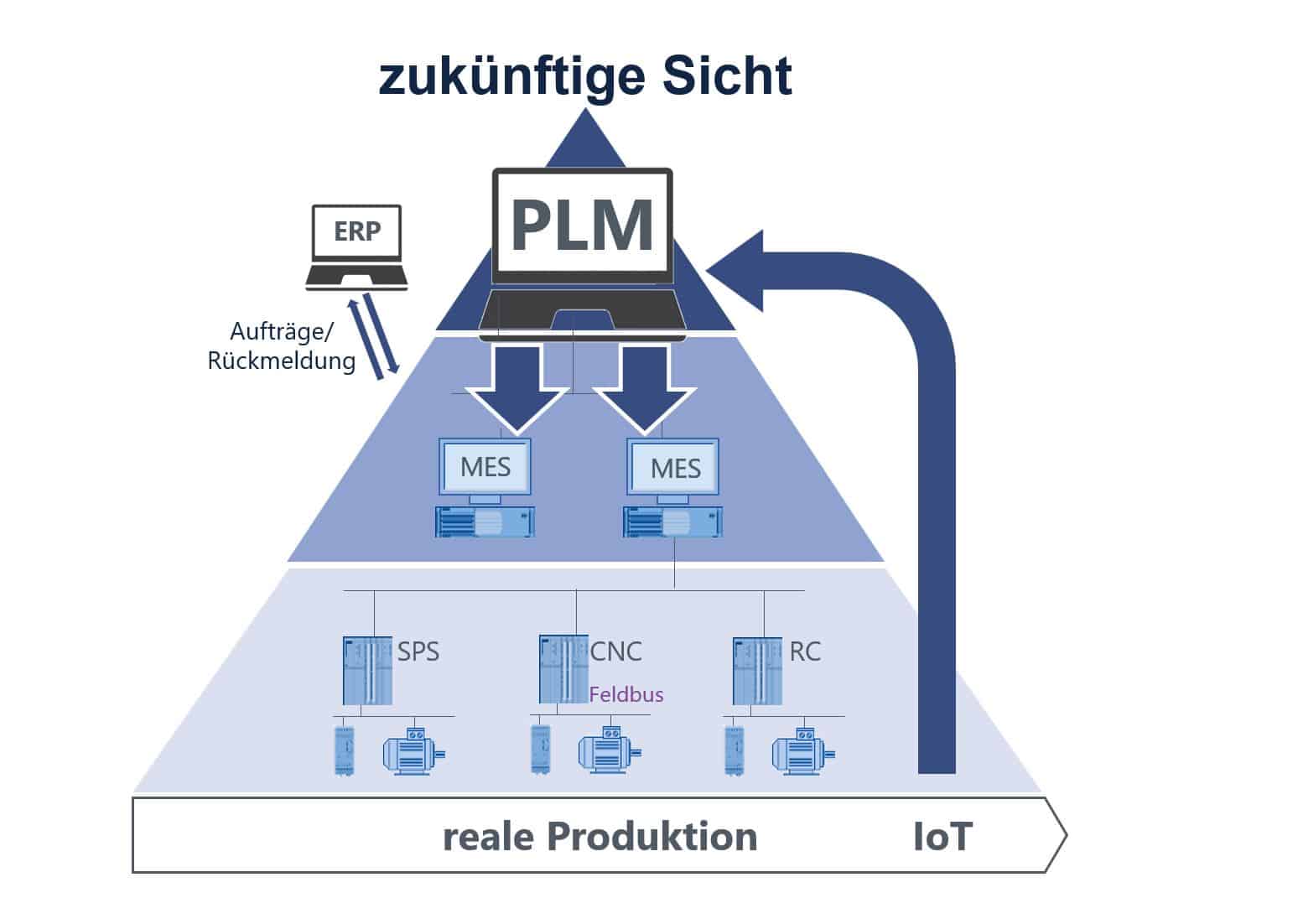 We from the STZRIM help our customers to find a perfectly tailored for them Development concepts PLM-MES-ERP to work out.
You can find more exciting information on the topic on the following film in our YouTube channel
PLM-ERP-MES
The introduction of PLM and MES is a very frequently discussed topic today. With digitalization and the change from ETO or STO to CTO, this topic became urgent. An important reason for this is to be found in the classic ERP data model. It is not suitable for fully mapping a CTO order fulfillment process. Thus, the interaction of PLM, ERP and MES becomes more and more important.
PLM-MES-ERP an effective interaction - Part 1
How do PLM-MES and ERP actually interact effectively in the future? This is a really exciting question, which Prof. Fischer deals with professionally in his current video. From an expert for experts, the video thereby explains the change in the automation pyramid and why this occurs. The little known key is the realization that all master data has a lifecycle. Previously, this was not apparent for some types of data because the effect was surprisingly absent given the low frequency of change. Today's increasing dynamics of technology and market development and the increasingly unstable environment are changing that. We will therefore see a lifecycle management for almost all master data.
3D Work Instruction - From PLM directly into MES - PLM-MES-ERP the future interaction - Part 2
There are so many cool tools that can show worker information ad hoc in the workplace with augmented reality and AI. Have you ever wondered why hardly anyone uses these tools? The answer is simple. No one has the 3D data that's right for the warehouse. Why not, in fact, and where will they come from in the future? The answer is simple. From a real MBOM (actually MCAD-BOM) from the PLM supplied directly into the MES. Why in this way and not in any other way? This is explained in our film.
Solve parts production cleverly? Work plans from PLM to MES now!
PLM and MES will move increasingly closer together. ERP is actually being pushed off the top of the automation pyramid. Prof. Fischer explains in his video series why it is wise to simply supply routings and NC programs from PLM to MES. Part 4 deals with parts production, routings and the creation of NC programs. The discussion also addresses the topic of future tool management and other noteworthy details.